Holiday hiring is the time to hire new employees. Holiday seasonal jobs can be a stressful time for the recruiters and everyone involved in the hiring process. Screening, assessing, interviewing and employee onboarding surely take a lot out of you.
In this blog, we shall cover the following:

Problems faced by Recruiters
Recruiters face a lot of problems during the time of holiday seasonal jobs. For example, these are the key challenges with online recruitment:
Finding the time slot for conducting interviews.
Taking those interviews within the time slot.
Keeping it within the budget.
You may not have the time to carry out every phase meticulously. But,what if there was something that eased out the process?
The solution is right here people –
'One-way video interviews' for holiday hiring.
As one of the popular tips for holiday hiring, one-way video interviews offer much more than you expect. Let's find out.
Benefits of One-way Video Interviews
One-way video interviews provide numerous benefits. Some of the top benefits provided by them are:
Screening gets a lot easier
Establishing brand visibility gets much less stressful
Quality of hire gets better
Strengthens your decision-making
You can provide a better candidate experience
Screening gets a lot easier
Overcoming holiday hiring challenges is the biggest headache for recruiters. For instance, planning a right slot for interview.You may have a full-proof plan but not being able to schedule the interview can make all that go in vain.
Well, rather than struggling to schedule interviews, what if both sides could participate in an interview at their schedule.?
One-way video interviews are technology-enabled interview modes where the candidates record their answers to your preset questions.
The whole team can evaluate all the candidates at a time of holiday hiring. You can speed up the screening process and take out any bias.
While phone screens cannot assess the full picture of a candidate's personality (like psychometric assessments), face-to-face interviews, are costly and time-consuming. One-way video interviews have changed the stereotypical views regarding initial screening.
Recruiters have started using one-way video interviews to pre-screen candidates as per job requirements.
READ: The Ultimate Guide to Holiday Hiring
What One-way Video Interviews provide that others do not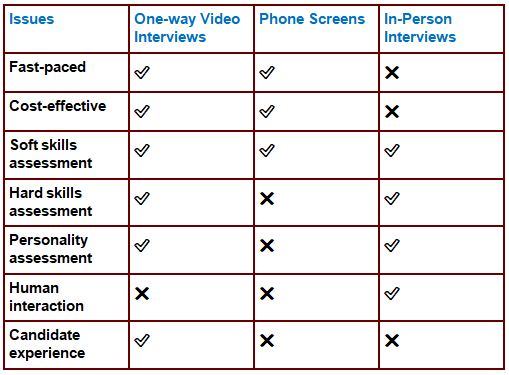 Adding one-way video interviews during the screening process helps you to overtake a lot of hiring administrative work.
Candidates can present themselves beyond their resumes. You can gather more data and undertake better decision-making. That said, automated recruitment tools are a boon for holiday workers too.
Do you know that one-way video interview takes around 10 minutes for candidates to complete? They save recruiters hours and they can quickly move on to the next phase.
Establishing Brand Visibility gets much Less Stressful
While there is no cheat sheet for holiday hiring, one-way video interviews can provide authentic insight into the company culture and environment. These level up your branding game, making the company get a better reach.
Also, one-way video interviews help find candidates who know about the company and the requirements and provide transparency for the candidates as well as the much-needed context needed for their major life decision.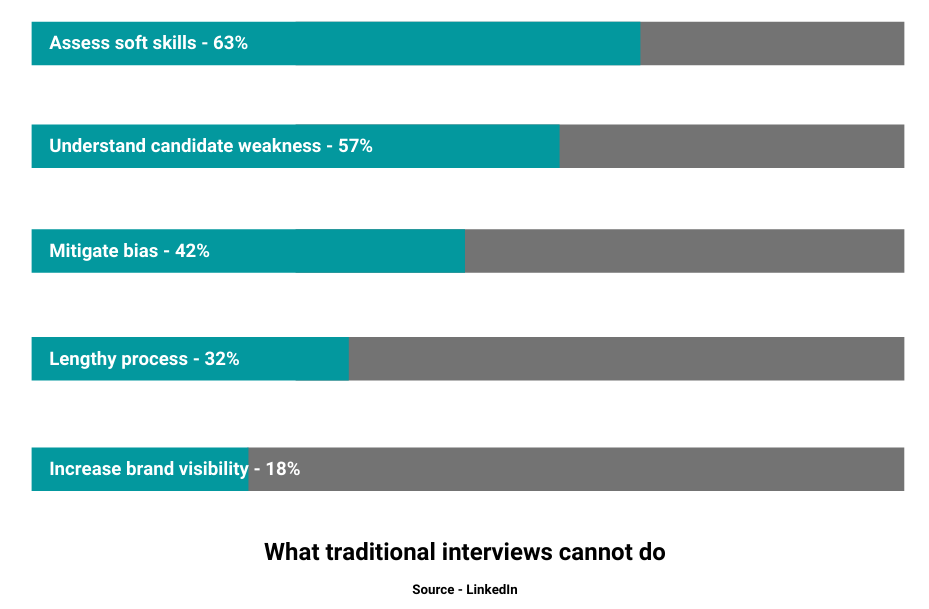 One-way video interviews bring a modern and agile recruitment method that causes a good impact on your candidates, resulting in a strengthened employer brand.
Quality of hire gets Better
The ability to perform a better evaluation of the candidates early on in the process helps in increasing the quality of hire. The chances of getting bad hires get negated with one-way video interviews.
To be more efficient you need to tackle the hiring challenges like weeding out the unqualified candidates right at the beginning. Thus, you need a method of identifying and assessing top performing candidates that is faster and more effective.
READ: Your Quest for Quality of Hire ends here
During traditional recruitment processes, you need to conduct CV screenings that take more of your time, and, in many cases, you are not even sure about the talent that you are interviewing.
Asynchronous video interviews help you save time by screening the candidates that are the best fit for the company with more accuracy and better speed.
As candidates are invited by email to do the one-way interview, you can engage more candidates at the same time. It also helps to develop more collaboration, especially during holiday hiring.
Decision-making gets strengthened
One-way video interviews let you collaborate better with the team.
Unlike phone interviews, the video interviews make it simple to share the candidates' responses with other members, improving the decision making.
On this note, we recommend you to take a look at our Ultimate Guide to Video Interviews in the Hiring Process.
Every team member can watch the candidates' videos on their own time, and make collective decisions on which candidate should move to the next phase.
Furthermore, you can watch the videos on loop and make direct comparisons between candidates. This makes the identification of the best talent more accurate.
How does candidate experience impact your company's reputation? It's simple: when you cannot provide a good interview experience to your candidates, it undermines your credibility and lowers the brand value.
One-way video interviews provide a winning candidate experience. These interviews allow you to engage with candidates in modern and innovative ways. You can customize the interview experience by taking advantage of branding features.
This lets you improve the candidate experience and also, increase the reputation of your company in the holiday hiring season.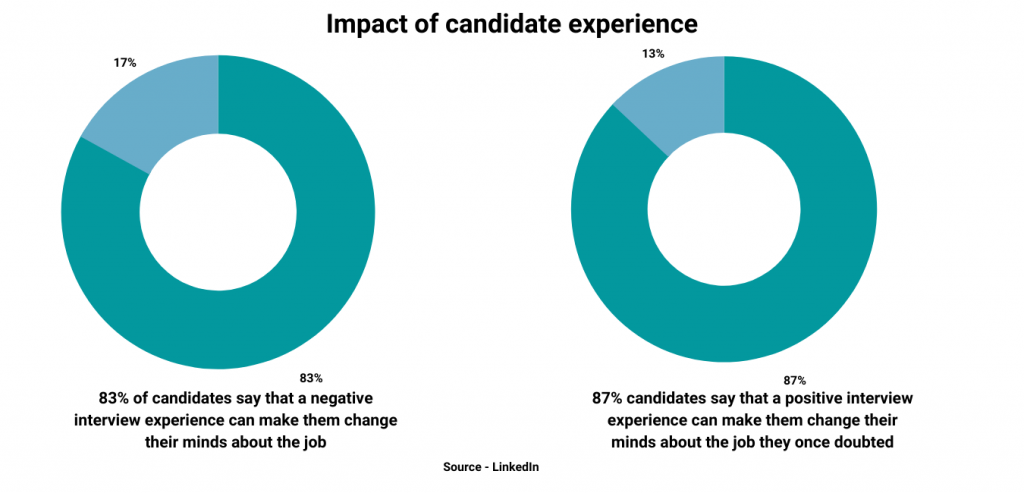 Holidays and One-way Video Interviews
Holidays are an "all the help you can get" season, and employers often don't have the time to conduct A-Z structured hiring process.
One-way video interviews help streamline the hiring process for you and your companies, allowing you to get the best talent minus the extra stress and time. It makes the initial process smooth and much faster, which is crucial during the holidays.
All in all, investment in recruitment technology is a pay-off. One-way video interviews can become a major relief for employers who need to recruit during the holiday season but don't have time to carry the whole process.
READ: Win the Seasonal Hiring Game with Recruitment Automation
Glider One-way Video Interviewing features
Using Glider tools for screening saves you a lot of painstaking effort
Becoming mobile-centric improves the response rate
You will be able to get maximum results from minimum screening.
Glider's mobile version for screening makes it more accessible.
You can provide the best candidate experience.
Company branding becomes the differentiator.
Make one-way video interviews your go-to screening method. Visit Glider AI and arrange a meeting with us.
Give Glider AI a try today!